Additional Options
Data Retention Expiry settings per form
Specify how long form responses and their attachments are kept before they are deleted. This is of particular significance for the Privacy Act and EU GDPR compliance.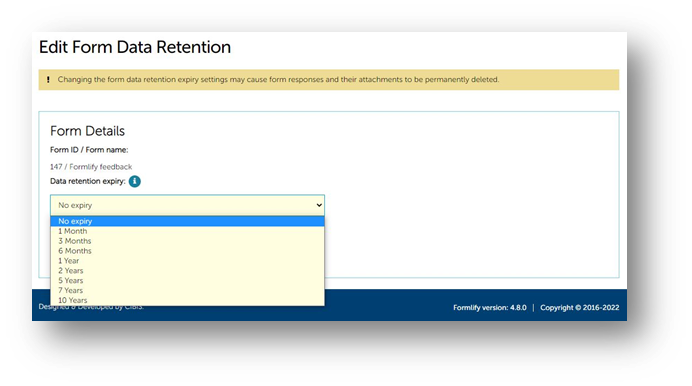 Geolocation tracking on form responses
The Geolocation will identify the geographic location of a user/device when completing a form.
2 Factor Authentication (2FA) to retrieve Draft Responses
If a form cannot be completed in one session, allowing the saving of draft responses will provide the person completing the form a unique link (URL) to retrieve their draft submission. For additional security, 2FA can be included, which requires an authentication code be sent as an SMS when retrieving a saved draft submission.
Custom Email Notifications
Customise the default email notification subject and email content for each submission and/or workflow step, including within body of the email with merge fields.

Custom Template Design
The standard Formlify template allows you to customise your form by adding an icon image and background image. Other branding and custom layouts are supported by CIBIS.
Custom Form URL
You can request a custom URL be setup for your forms (e.g. forms.yourcompany.com.au).
Data/text lookups from externally supplied data
External text from lookup allows you to capture and optionally display additional data from an external data source. This can also be used by the Type-ahead lookup input control.
Include Merge Fields within email notifications
Merge fields are a powerful feature that allows you to use (and re-format) values supplied by a user or contained within a form to create a new value that can be used elsewhere. They are commonly used within Formlify's Advanced controls such as the NAB or BPOINT Payment gateway or when integrating Formlify with Enterprise Content Management systems including Content Manager and TechnologyOne's ECM document management systems.
Take payments via credit card
Payments are supported via the BPOINT or NAB payment gateways. The payment process integration will alter the form behaviour when the form is submitted and the page is directed to the relevant payment provider for processing on their servers.
Support for Sub-Forms (linked with Master Forms)
A Sub-form links to one or many (main/master) forms. It allows you utilise common elements that may appear in many different forms (e.g. like a standard Contact Details section within a form).
Data Sources (Import Data)
Importing data allows you to manage the reference data used in controls like the Type-ahead lookup input or External text from a lookup.
ECM Enterprise Content Manager Integration – TechOne ECM
Formlify can be integrated with TechnologyOne's Enterprise Content Management systems. The integration allows you to configure Formlify to push documents into your document management system automatically. This may be critical for statutory record keeping purposes.
ECM Enterprise Content Manager Integration – CM9
Formlify can be integrated with CM9 (formally HP Trim) Enterprise Content Management system. The integration allows you to configure Formlify to push documents into your document management system automatically. This may be critical for statutory record keeping purposes.
API Support
In addition to Exporting Data to Excel, Formlify can also integrate with other systems using Rest API's and JSON formats.
Type-ahead lookup input
This is a dropdown list with values loaded from a data file. The "type-ahead" avoids users having to scroll through long lists. Instead they simply start typing the desired value and a short list of matching entries will be displayed.
Workflow Automation
Automated Conditional Workflow processing supports the initial Workflow state being automatically moved to one of potentially many different Workflows states. The automated selection of the most appropriate Workflow status will be based upon the pre-configured rules and priorities assigned to Workflow step conditions that act as a prerequisite to that Workflow choice.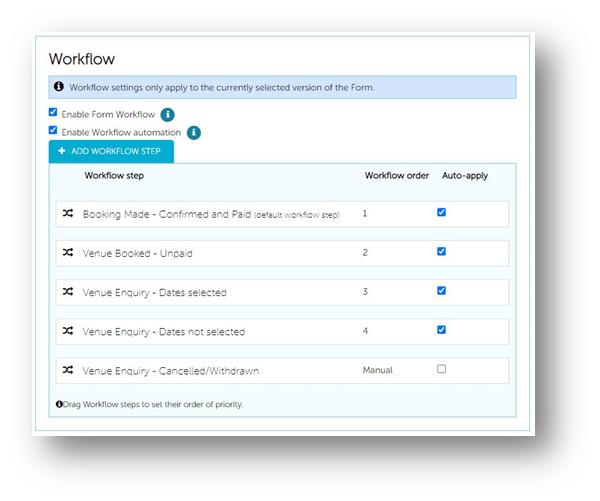 Integration with Civica's Authority and Altitude Enterprise Systems (for Councils)
Civica's Authority Enterprise Management solution used by local government can also be integrated with Formlify. You can have form submission details create an Authority's CRM record and write form data into CRM fields and Authority Registers. This is also available with Civica's Altitude cloud platform too.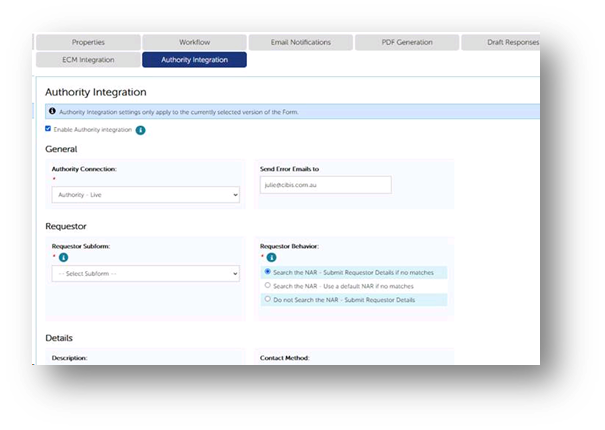 GreenID Identity Verification
Green ID Identity Verification is an external service that can assist to verify the identity of the person submitting the form based on e.g. Drivers Licence details.
RSS Feed
RSS (Really Simple Syndication) refers to files easily read by a computer that update information automatically. An RSS feed allows you to provide a real-time source of data from submitted forms for inclusion in another system, typically your own web site, but can also be any subscriber.